September is Classic 40s Movie month. Today's guest post comes from Melissa Privette.
Title: Now, Voyager

Year: 1942
Writers: screenplay by Casey Robinson, novel by  Olive Higgins Prouty
Lead Actors: Bette Davis, Paul Henreid, Claude Rains
Director: Irving Rapper
IMDb Plot Summary: Boston spinster blossoms under therapy and finds impossible romance.
Why I Think This Is A Classic 40s Movie
They say, you'll never forget the first. I'll always remember my first Bette Davis movie, Now Voyager. I was nineteen, and at the time the only 'old movies' I was familiar with were a handful of Capra films and of course the required essential, Casablanca. I'd heard of Bette Davis, but didn't know much about her. So I went into the movie thinking I'd have a nice two hour little film to occupy a rainy Saturday night after finals. Little did I know how long it would stay with me.
Charlotte Vale, the maiden aunt, the tortured soul trying to find her own way under the iron rule of her oppressive mother ( the amazing Gladys Cooper ) was me. While my relationship with my mother perhaps wasn't that dramatic, I knew what it was like to feel as if you could never do anything right in her eyes. I knew what it was like to be an introvert, the black sheep of a more charismatic family.
I didn't know what it was like to be made over by Claude Rains into the sophisticated Miss Beauchamp, but you get the idea. I'd like to note that the rather open discussion of mental illness and psychiatric therapy was groundbreaking for the time period, and impressive. Bette Davis was a force of nature in this film ( as I later discovered that she is in all of her films ), but Claude Rains was more than a match for her as the compassionate Dr. Jacquith.
Of course, I'm leaving out one of the most important parts of this movie–Paul Henreid as Charlotte's very charming but very married lover, Jerry Durrance. I mentioned that I'd seen Casablanca, and up until the time I watched Now Voyager, had I been Ilsa Lund, I would have stayed behind with Rick. In subsequent viewings, I've maintained that I'd always choose Victor Laszlo. Henreid here is wonderful–handsome, smooth, cool, and collected. The cigarette trick has tempted me into smoking in an age where we know it's terrible for you–that's the power of movies, I suppose. The chemistry between him and Bette is brilliant, and I often wish Warners would have paired them up more often after this.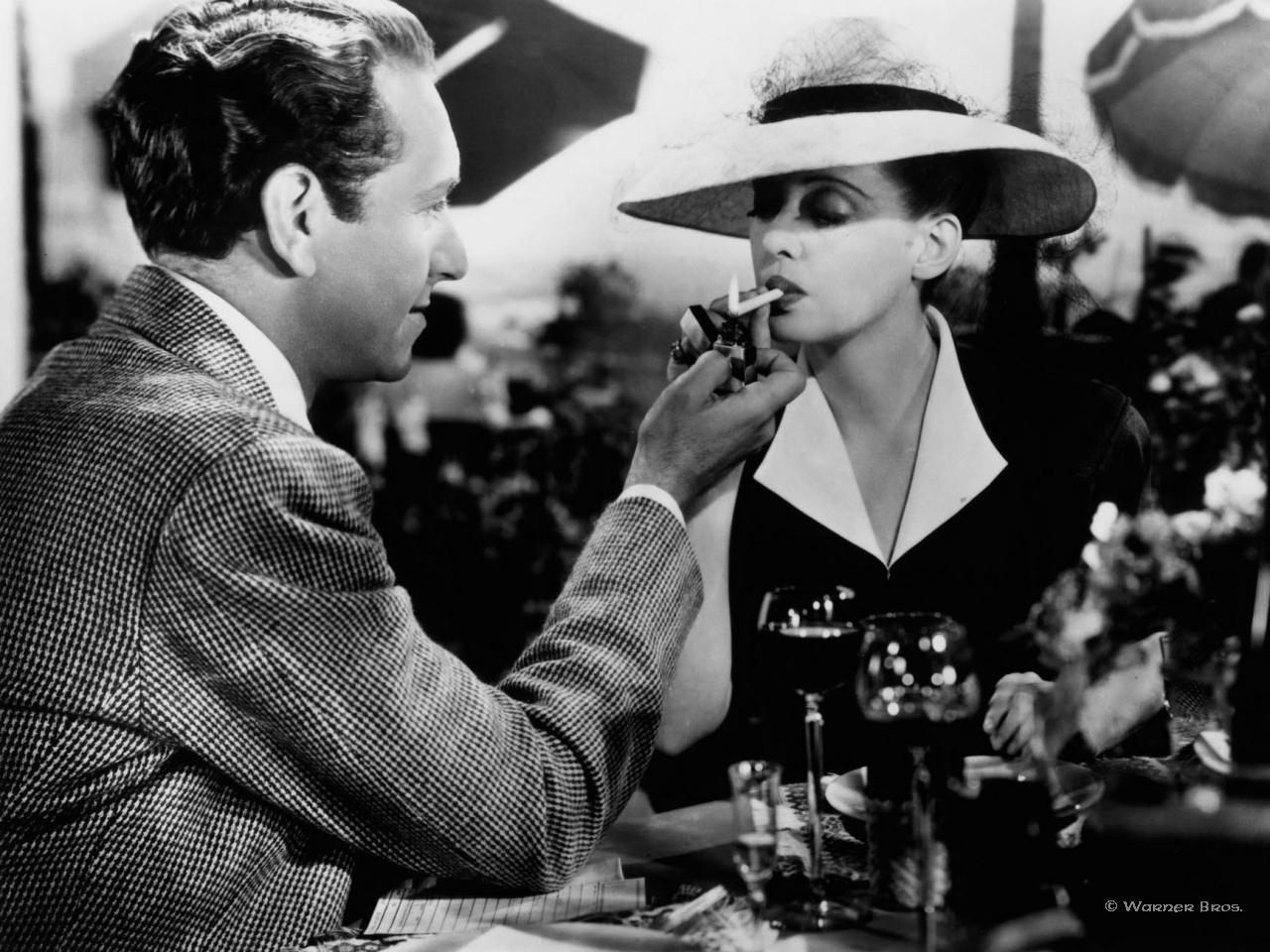 But beyond being a love story, Now Voyager is a coming of age ahead of its time. After their tryst ends after the cruise's conclusion, Charlotte gets engaged, breaks her engagement, and, after her mother's death, leaves Boston for Jacquith's retreat and meets Jerry's daughter, Tina. Tina's relationship with Mrs. Durrance is just as rocky as Charlotte's with Mrs. Vale, and the two bond. While some have commented that Charlotte was using Tina to get closer to Jerry, I think that she empathized with her because they both suffered in similar ways.
By the end of the film, Charlotte has asserted her independence by choosing not to rekindle her affair with Jerry, and instead focusing on helping Jacquith with the hospital. She's a woman who is now comfortable in her own skin. It's a message that resonated with me even today, over seventy years after the movie was released.
My Favorite Moment in the Movie
By far the most touching moment for me is when Charlotte and Jerry are in Rio, on the hotel balcony, and the two of them are discussing love and happiness, and Charlotte makes the comment that she's immune to happiness, and thus to getting burned. Then Jerry answers that he would spend his life trying to prove her wrong if his wife weren't in the picture. The part that hit me close to home is when Charlotte begins weeping and Jerry says "Why, darling, you're crying?"
Bette's acting here is so tangible, so visceral and natural that it transcends time. "I'm such a fool, such an old fool. These are only tears of gratitude – an old maid's gratitude for the crumbs offered. You see, no one ever called me 'darling' before." And your heart breaks with hers.
A bonus scene that I love is when the couple are at the airport, and as Max Steiner's iconic theme plays, Charlotte and Jerry share cigarettes and three kisses before Charlotte departs for Boston. It's classically romantic, and by this stage, even though instinctively we know they can never be together, you feel for both of them.
My Favorite Dialogue In the Movie
One of my favorite pieces of dialogue comes after Charlotte returns home from her cruise and her mother confronts her about her makeover. It's incredibly clear that she's gained a new confidence in herself, to the point that she's willing to confront her biggest fear.
Mrs. Vale: And you expect me to pay for articles charged to me of which I do not approve?
Charlotte: Well, I could pay for it myself. I have saved quite a little money. I have about five thousand dollars.
Mrs. Vale: Five thousand dollars won't last very long, especially if your monthly allowance were to be discontinued.
Charlotte: Oh. Mother, I want to ask you something. When father set up the trust for the two boys, why didn't he make one for me too?
Mrs. Vale: Because you were a mere child and he wisely left your affairs to my own better judgment. I'm sure you've always had everything in the world you want.
Charlotte: I haven't had independence.
Mrs. Vale: That's it. That's what I want to talk about – independence. To buy what you choose, to wear what you choose, sleep where you choose, independence. That's what you mean by it, isn't it?
Charlotte: Dr. Jaquith says that – that independence is reliance upon one's own will and judgment.
Mrs. Vale: I make the decisions here, Charlotte. I'm willing you should occupy your own room until I dismiss the nurse. She will occupy your father's room for the time being, and will perform a daughter's duties as well as a nurse's. That will give you a good chance to think over what I've said. I'm very glad to give a devoted daughter a home under my roof, and pay all her expenses, but not if she scorns my authority.
Charlotte: Well, I could earn my own living, Mother. As a matter of fact, I've often thought about it. I'd make a very good head waitress in a restaurant or…
Mrs. Vale: You may think that very funny, but I guess you'll be laughing out of the other side of your face if I did carry out my suggestion.
Charlotte: I don't think I would. I'm not afraid, Mother. (in close-up) I'm not afraid. I'm not afraid, Mother.
Mrs. Vale: Charlotte, sit down. I want you to know something I've never told you before. It's about my will. You'll be the most powerful and wealthy member of the Vale family – if I don't change my mind. I advise you to think it over.
Key Things You Should Look Out For When Watching This Movie
Max Steiner's amazing score—he's known for composing the music for Gone With the Wind, but I think this and Jezebel are my favorite scores of his.
Bette Davis is a luminary to this day. She runs the emotional gamut with this role, and while some have pegged her acting here as over the top, I think that it's a genuine representation of a woman rising above emotional abuse and coming into her own by the end of the film.
The ever charming Paul Henreid and the endlessly charismatic Claude Rains both play off of Bette really well in this movie. It's a very different film than 1946's Deception, which teams the three up for the second and final time, but I highly recommend it as well.
Thanks, Melissa! To show our gratitude for your guest post, here's a dash of creative juju for you. Whoosh!
We already have a set of classic 50s movies, 60s Movies, 70s movies, 80s Movies and 90s Movies. This month, we're working on 40s movies. And thanks to the GITS community, we've got 30 movies in the works, one for each day of the month!
Thanks to everyone who steps up for this ongoing project!
For the original post explaining the series, go here.
For all of the 40s movies featured in the series, go here.
Click REPLY and see you in comments about today's classic 40s movie!
Здесь можно оставить свои комментарии. Выпуск подготовленплагином wordpress для subscribe.ru