"In ancient times, hundreds of years before the dawn of history, an ancient race of people… the Druids. No one knows who they were or what they were doing…"
— This Is Spinal Tap (1984),
The Daily Dialogue theme for the week: Embarrassment.
Trivia: Spinal Tap is infamous for problems with their Stonehenge props. The most famous incident comes from the film, in which the prop is undersized and nearly trampled by a dwarf. On their live tour in support of Break Like The Wind, a package delivery man brings a package with an even smaller model. In The Return of Spinal Tap, the prop is far too large, and the stage crew makes every effort to cram it through the small doorway, and fails. When they performed at Live Aid, the prop, signed by all the other performers, was the right size, but the "columns" were lowered without the top crossing piece, and subsequently removed from the stage. The top piece eventually lowered with nothing to land on.
Dialogue On Dialogue: Basically everything Spinal Tap does is embarrassing including this screw-up. Or maybe it wasn't. Here is Spinal Tap visiting Stonehenge: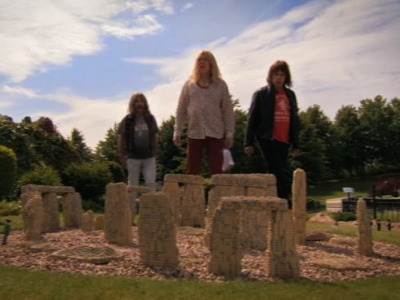 Maybe they got the dimensions right!
Здесь можно оставить свои комментарии. Выпуск подготовленплагином wordpress для subscribe.ru